Khael
Khael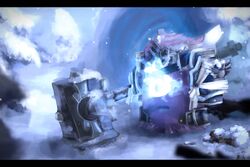 After the Fall of Kaion and the end of the Kaion civilization, some individuals survived in the form of spirits. This is the case of Khael, a brave Kaion knight, who's spirit reincarnated as the Guardian of the Dark Templars. Khael and the Dark Templars are based in a secret cave in Neverwinter.
Khael now lives in the jungle, where he helps new adventurers gain new powers.
You can obtain the black order armor by completing Khael's mission.
Note: Be sure to give the required items in the order that Khael says.
Required items:
Legendary Mace of Level 1
Level 1 Legendary Spellbook
Level 2 Legendary Mace
Legendary Spellbook Level 2
Upon completion, a character's weapon and hat will turn black as new skin.